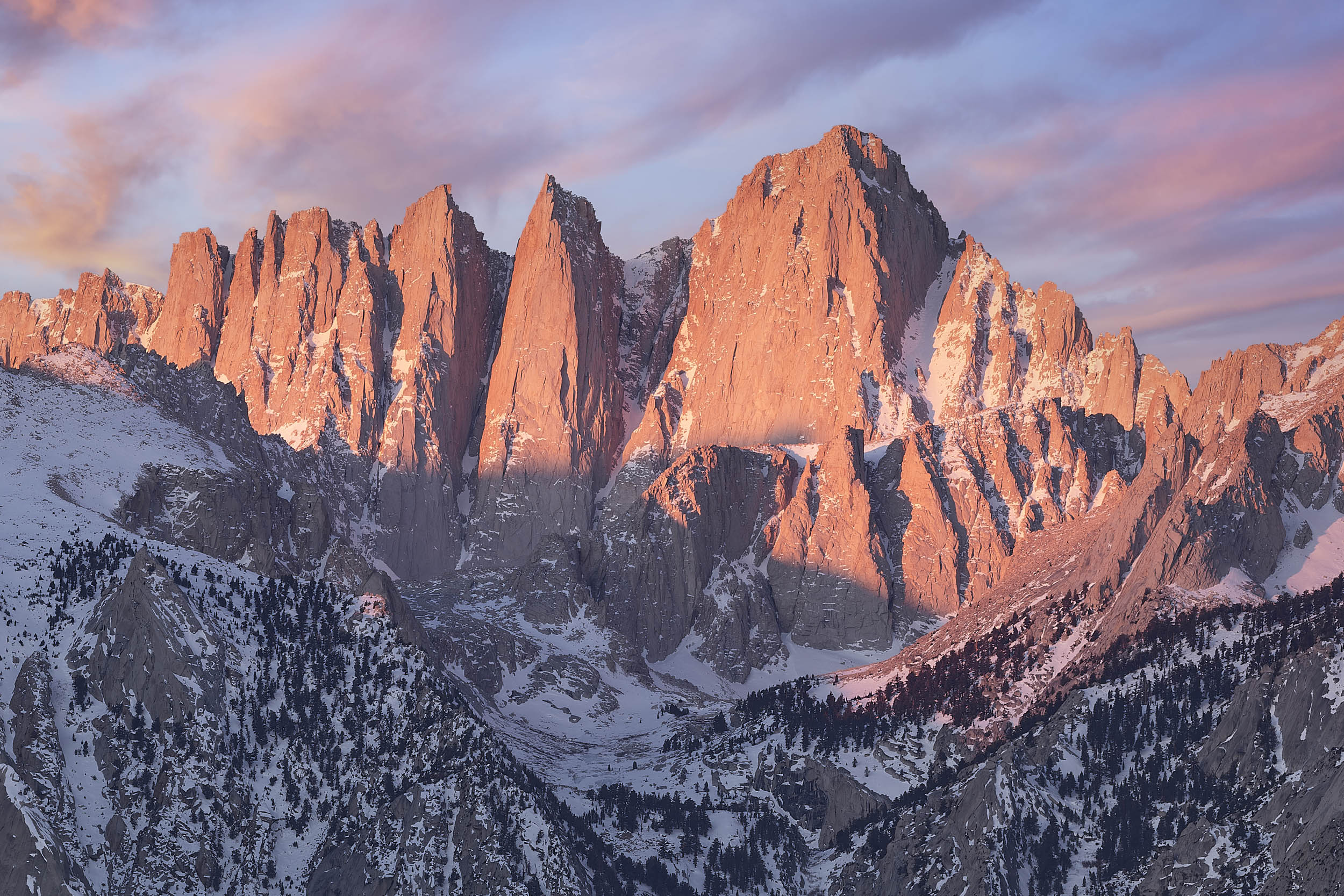 Mt Whitney & Alabama Hills
I was completely blown away by the grandeur of the scenes to be found at California's Alabama Hills.
The drive up to the eastern base of the High Sierras from Phoenix was uneventful. My trip started out at dinner time on a Friday when I packed up the van and headed west. My plan was to arrive late after dark and camp within the BLM area south of Joshua Tree to be there for sunrise the next morning. Waking up at 4:45am to have time to make some tea I pulled out of my spot well before dawn. Driving through the southern region of the park the only landscape visible was the road before me lit by my headlights. I arrived at Jumbo Rocks twenty minutes before official sunrise and was able to get a little bit of scouting in during blue hour. The sky was featureless and the golden hour light lasted only minutes. Not my ideal shooting conditions. After struggling with a few compositions that ultimately didn't work out that well I decided just to put the camera away and simply enjoy my surroundings. Not all days deliver the magic that landscape photographers crave… in fact most don't. After a quick breakfast of hot grits and orange juice I hit the road for my 5 hour journey up to the Alabama Hills.
I drove straight through zig zagging on country roads through the heart of the Mojave Desert passing through small long forgotten and downtrodden towns along the way. Being spoiled by the beauty of the much more lush Sonoran Desert of Arizona I found the Mojave to lack the type of character I enjoy. It surely has it's own character that if I spent time there I would likely learn to appreciate and find incredible areas to photograph, but on this day it would have to wait for a future trip as I only had forty-eight hours to work with.
After what seemed an eternity of driving I entered the town of Lone Pine, California… the gateway to Whitney Portal and the Alabama Hills. Lone Pine is a charming little town with shops and cafes geared towards outdoor enthusiasts. If it weren't for the COVID-19 situation I would have liked to have explored the town a little. Something to look forward to on another trip I guess.
I made the turnoff onto Whitney Portal Road that takes you out to the Alabama Hills and if you keep going takes you right up to a trailhead thousands of feet of elevation higher where you can hike into the Sierras and up to Mt Whitney's summit. My goal this day was the Alabama Hills. Pulling into the area I knew straight away this place was special. Nestled at the foot of the High Sierras the Alabama Hills is a large area of bouldery monzogranite. Thermal expansion and contraction coupled with exfoliation allowed the Alabama Hills' granite to weather into spheroidal forms perfect for climbing around on and hiking. The large boulders range in size from small cars to multi story office buildings.
The best camp spots are at the base of the large formations of boulders. It is dispersed camping and spots are generally spaced 1/8th to 1/4 of a mile making it easy to find a little solitude. When there isn't a fellow camper driving by it is dead silent… no audible sounds of civilization. What really makes this place special is the juxtaposition of the dark brown rounded boulders of Alabama Hills against the backdrop of the High Sierras in their jagged enormous glory. It's striking.
Arriving at midday I caught a quick nap in the back of the van before doing a bit of scouting near sunset. I was quickly able to find my main composition of Mt Whitney where I would place a tripod with camera locked in and many nearby secondary compositions that I would move around with a second camera shooting more run and gun style making mental notes of the order in which the light would illuminate them. Knowing the position of sunrise/sunset on the horizon and angle in the sky is absolutely key in planning the vision for your compositions. Mt Whitney is 14,505 feet so I knew that the first light the next morning would light up the highest peaks well before official sunrise time. It turned out to be a full 25 minutes before the sun broke the eastern horizon. This would give me time the next morning to begin shooting my main composition before switching to my run and gun compositions after the sun would be a bit higher in the sky.
I shot a few frames at sunset before retreating to the van for some dinner of lentil chili, a well deserved Four Peaks beer, and a viewing of the movie 'Into the Wild'. Waking the next morning an hour before official sunrise I made my morning tea and ventured out to set up for my main composition. The early February air was brisk and refreshing. About 25 minutes before sunrise the upper peaks of Mt Whitney began to pick up the warm red glow of first light. The glow spread across the tops of the surrounding peaks and ridges in order of their elevation before finally making its way down into the valley below. I was able to get a number of shots of my main composition of Mt Whitney before feeling satisfied enough to move onto my run and gun spots. Running around quickly from spot to spot hopping boulders as I went I collected images from the surrounding rock formations as the early morning light painted each one.
It was a rather beautiful morning and the images I was able to collect made the long weekend of driving worth every minute. I'll definitely be back to this region in the future hopefully during some sort of dramatic weather, and will likely go even further north next time to some locations I have on my list of places to photograph.
All images shot with the Panasonic S1R & S1 cameras and Sigma ART 135mm 1.8, Sigma ART 85mm 1.4 DN, and Sigma ART 40mm 1.4 lenses.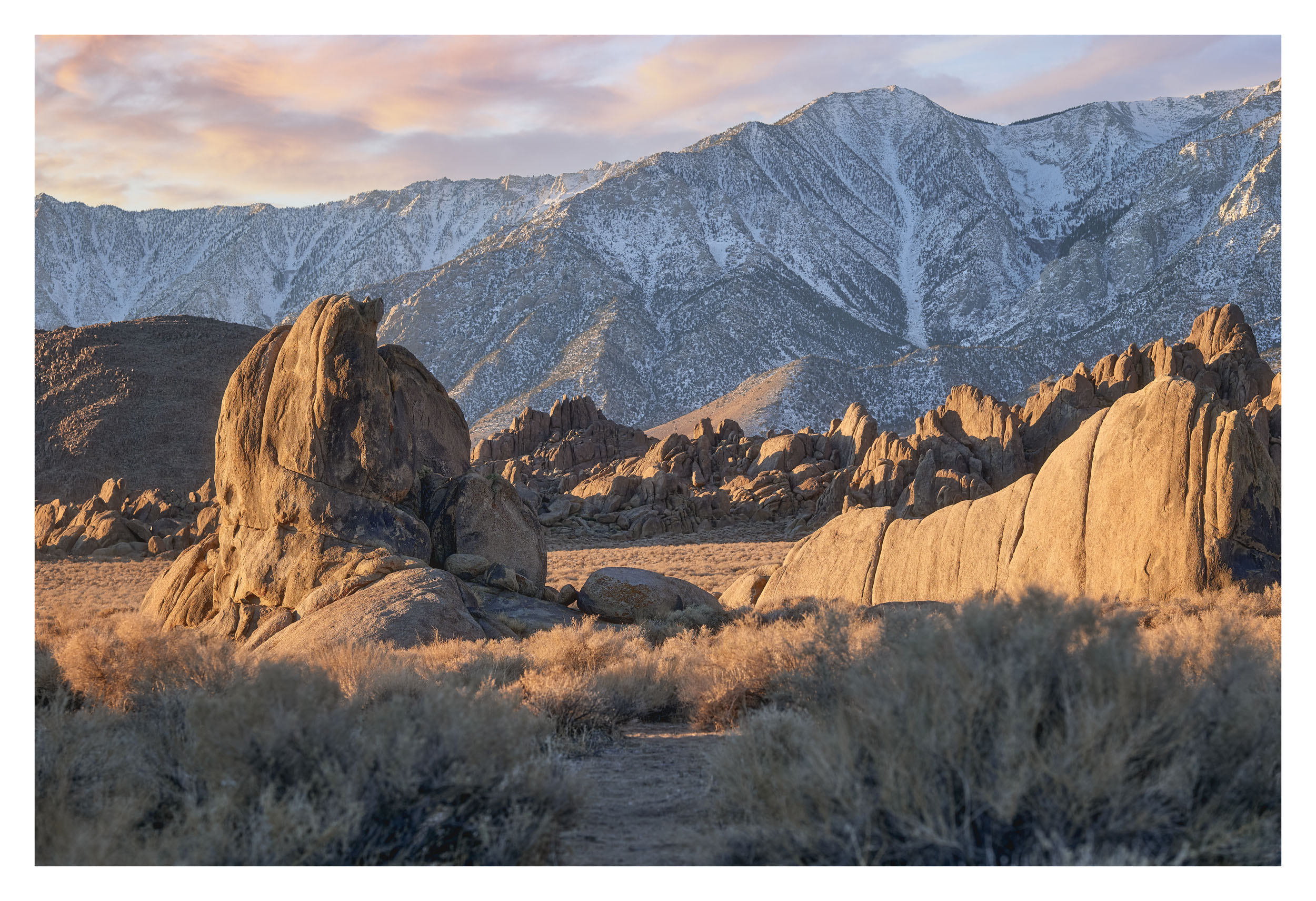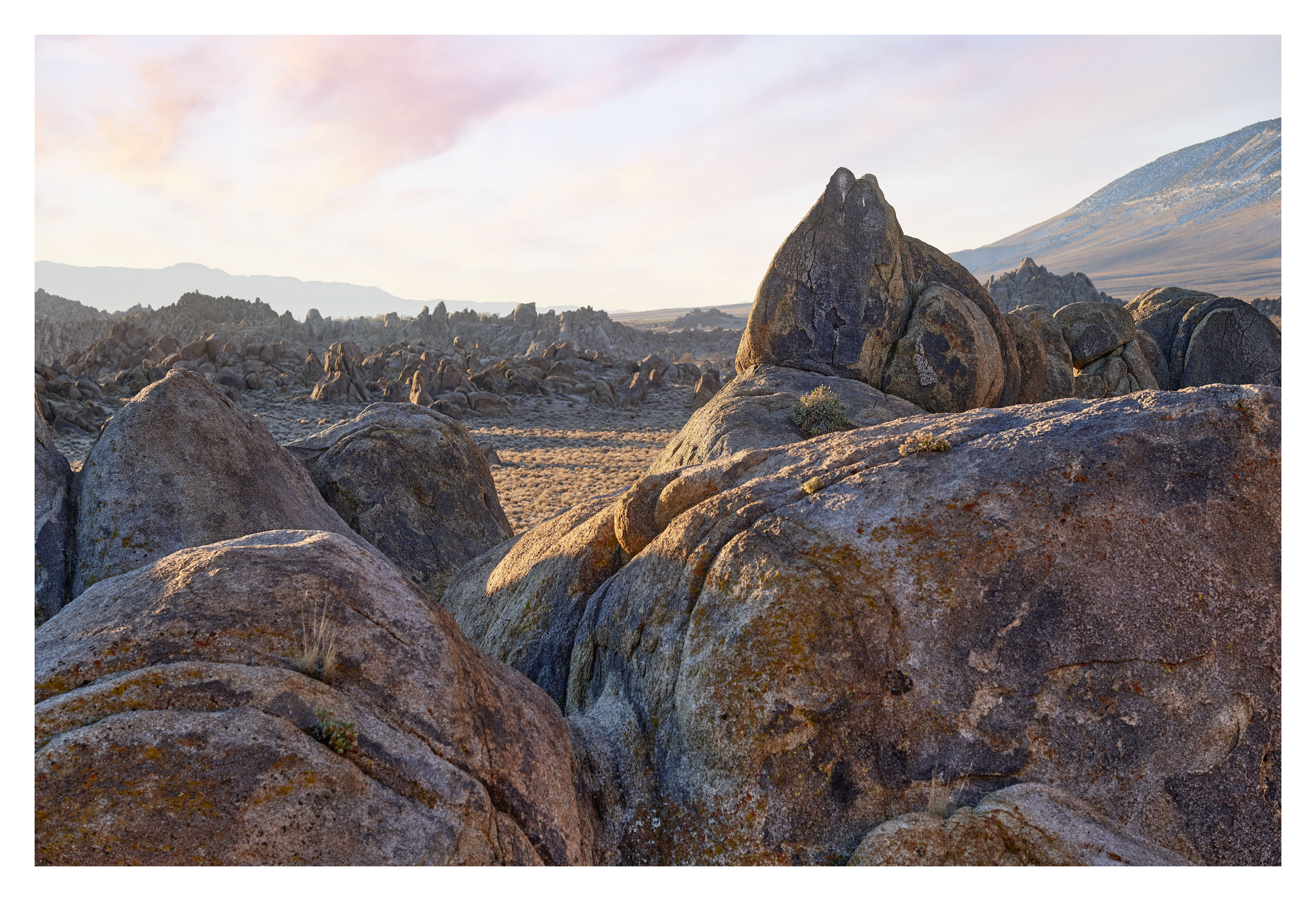 Arizona landscape photographer, Travis Neely, has been photographing the American West for more than 5 years. His landscape photography is available for purchase as fine art prints and for commercial licensing. Travis also teaches landscape photography and digital post processing through private workshops.